At Huttenpark, we actively encourage all our learners to participate fully in our extra-mural programme and to choose sporting activities from our wide selection on offer.
Extra-murals are key to a balanced curriculum, healthy lifestyle, and enhanced school experience.
In the Foundation Phase, the emphasis is on participation and we encourage our learners to engage in as many activities as possible. The aim is to develop the necessary skills and competencies required for the more formal sporting and cultural activities in the Intermediate and Senior Phase.
We also participate in Inter-House activities, such as our annual gala and athletics heats, with the emphasis being on teamwork and maximum participation.
Staff members and some outside coaches are utilised in the extra-mural programme to ensure our learners get the best possible coaching and to help realise our goals and objectives in developing the mind, body and spirit of our leaners.
 
We offer the following sporting codes here at Huttenpark: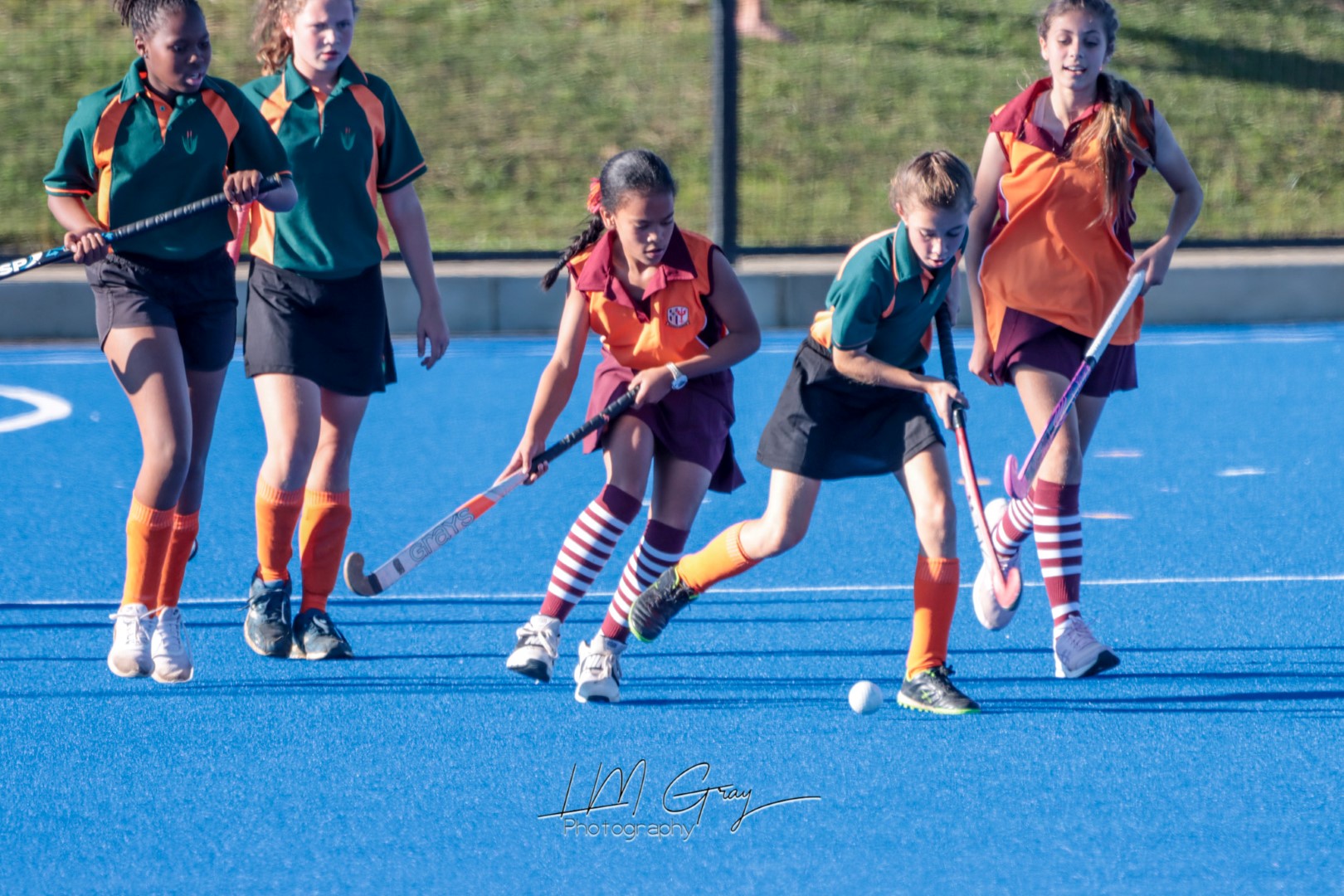 Athletics
Athletics is offered during the first and third and last term.
Our Junior Phase learners participate in the Fun-letics Day, where we have specialised equipment for younger, developing children. Each learner participates in different races. We also have a few novelty races to make it more enjoyable for both the learners and supporters.
Our Intermediate and Senior Phase Athletics heats and trials take place in the first week of school, during school hours, giving every learner a chance to participate. Once this has been completed, practices take place in the afternoon. We offer long distance, sprints, relays and hurdles for the track events and long jump, high jump, javelin and shot putt for the field events.
The School team is then selected from the Inter House Athletics Day. Our best athletes go on to represent our school at the Inter-School Event.
Cross-Country
Cross-Country is offered as an extra-mural sport. It helps with building and maintaining fitness levels.
We host our Inter-House Cross-Country meeting during school hours. All learners are encouraged to participate and score valuable points for their Houses.
The Cross-Country team is selected from the Inter-House results. The top runners from each age group go on to represent our school at the Inter-School Event.
Cricket
In the Foundation phase, our learners (girls and boys) are encouraged to play Mini-Cricket.
We host a large Hutties' Mini-Cricket Festival annually. These boys and girls spend the day playing in mini-matches against various primary schools from in and around town, as well as some schools from out of town. 
Once the learners have developed their skills playing Mini-Cricket, they are introduced to hardball cricket in the under 10-age group.
Hockey
We offer both boys' and girls' hockey at Huttenpark.
Our Grade 1 -3 learners are introduced to Mini-Hockey. This is a 7-a-side game on a small field. There are many Saturday tournaments that all the players have the opportunity to participate in. In the junior phase, our A Teams are merit-based, however our B Teams are rotated to ensure every child gets exposure and match time experience. 
Teams ranging from U/9 to U/13 are entered into local leagues and play in at least one festival and many matches against various schools in and out of town.
Our First Teams go on hockey tours, where they are exposed to some great guest coaches and they attend hockey skills development workshops as often as possible.
Netball
Our Mini-Netball (Grade 1 -3) introduces the girls to the game of Netball.
The girls are taught netball skills and introduced to the different positions. The emphasis is on skills development and enjoyment for our U/7, U/8 and U/9 teams.
Teams ranging from U9 to U13 are entered into local leagues and play in at least one festival and against touring teams.
Our First Team goes on tour and attends as many netball skills development workshops as possible throughout the season.
Rugby
Our rugby coaches provide the boys with all the necessary skills, to be able to achieve at the highest level of participation on the rugby field.
Our coaches attend some of the best and most advanced coaching courses, ensuring our learners receive the best and most current coaching from coaches with advanced coaching techniques.
Our Grade 1 and 2 boys are introduced to rugby from the get go. Once the boys are more confident they start playing matches. The under 9 rugby teams play uncontested scrums and lineouts.
Our senior teams move onto to playing matches in 15 man teams and on full fields. 
Our First Team goes on tour and attends various rugby skills development workshops. 
We also offer U/12 and U/13 Rugby 7's. Our school plays in a prestigious 7's league.
Swimming
Junior Primary – Every learner is taught to swim during their PE lessons, which take place in school hours as these form part of our curriculum. Our Junior Primary also takes part in the Inter-House Gala. 
Senior Primary – Learners participate in an Inter–House Gala, from which our school swimming squad is selected. The squad is required to attend swimming training with our swimming coach. 
Our school swimming squad also attends the Invitational Gala, hosted by Ferrum High School, where they compete against various primary schools in town.
Tennis
Mini-Tennis is offered to learners in Grade 1 – Grade 3.
Learners are taught the basic skills of tennis. Teachers coach tennis and the school provides tennis balls that are specifically designed to assist young children with developing their ball skills.
Our seniors have various groups, we have the beginners groups, coaches in these beginner groups focus on skill development and giving the learners a general feel and understanding of the game.
We also have advanced groups, where the coach focuses on improving the learners' skills and teaching them advanced techniques of the game.
Soccer
Soccer is offered to all boys and girls in the Junior and Senior Primary.
As Huttenpark, we host a large Soccer Tournament annually, in which we include all local and out of town schools. This tournament ensures all schools, in and out of town, are able to get match time exposure as soccer is still a relatively new and developing sporting code in many South African schools. There are various matches for each age group during term 3.
Drummies
Huttenpark is one of the very few schools to still offer Drummies (Drum Majorettes).
We have a very prestigious squad, which treats the town to various performances at some of the town's largest events.